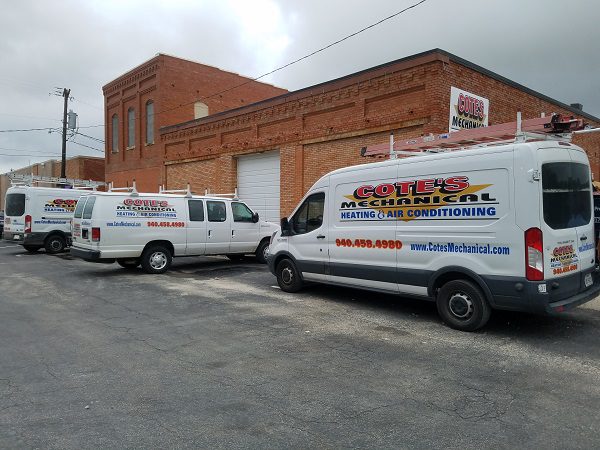 Contact Cote's Mechanical in Copper Canyon, Texas
Cote's Mechanical
Hours of Operation:
Open 24 Hours
Heating & Cooling Services in Copper Canyon, Texas
Since 2001, the team at Cote's Mechanical, LLC, has been providing fast and reliable heating and cooling services to the people of Copper Canyon. Our team is dedicated, highly-skilled, certified, and happy to keep your HVAC system running so your home or business can stay comfortable. Whether you need a new commercial HVAC system for your building, maintenance for your home's HVAC unit, or emergency repairs, our team can help!
Services We Offer to the City of Copper Canyon
Heating Services
Texas winters often have a few weeks of bone-chilling cold and it is during these times that you want your heater to be there for you. Cote's Mechanical can help ensure that your heater is running strong, by offering unparalleled heating maintenance and repair services. Beat the chill by relying on our team to perform routine checks to make sure your heater can keep your home comfortable. Make sure you don't come home to a cold home and contact Cote's Mechanical today!
Ductless A/C Installation Services
Ductless A/C is a flexible air conditioning solution that allows you to cool your home without the need for traditional ductwork. These A/C units work best when needed for a specified room or space in your home or if you have an older house where putting in ductwork could be a challenge. The team at Cote's Mechanical can help you install a ductless A/C unit into your home, allowing you and your family to stay cool all summer long.
Air Duct Services
Your air ducts are the transportation routes for your conditioned air, so it is important to make sure that they don't have leaks and are clean. Cote's Mechanical, LLC offers air duct cleaning, maintenance, and repair services.
Resources in Copper Canyon, Texas
Ordinances for the city of Copper Canyon, Texas
Building Permits for the City of Copper Canyon, Texas.
Cote's Mechanical is proud to serve the individuals of Copper Canyon, Texas, and the neighboring cities, including Hickory Creek, Double Oak, and Bartonville. Contact the passionate team at Cote's Mechanical today for more information on our services or an estimate!