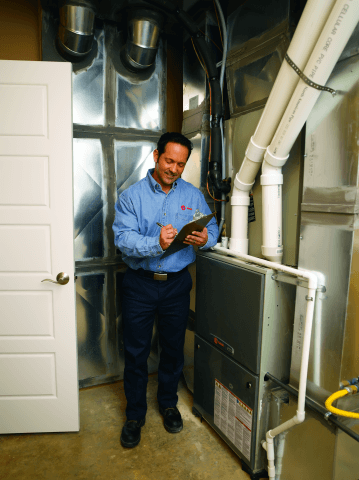 Denton Heating Maintenance and Tune-Up Services
The worst time to think about the health of your heater is right after it breaks down. Heater maintenance and tune-ups can keep your heating unit running efficiently and effectively for much longer. That way, you can avoid costly surprises and uncomfortable periods without heating.
At Cote's Mechanical, our professional maintenance and tune-up services involve more than just working off a checklist; we look at every aspect of your heating system to make sure that it's working as intended. If there are problems, we'll talk with you about repair or replacement options.
Routine Maintenance for Heaters
Heater maintenance is one of the most underutilized services we offer at Cote's Mechanical. The benefits of heater maintenance include:
Improved performance – You will notice fewer cold spots and a warmer overall house.
Lower energy costs – Paying for a warm house can be daunting at times. However, with a well-maintained system, you'll see a decrease in your utility bills.
Fewer repairs – When your system is well maintained, you'll be less likely to need repairs today and later down the road.
Longer life – Add life to your unit to avoid needing a replacement too soon.
Heating Unit Tune-Ups
The best time to have your system tuned up is right before the season's change and the weather turns cold. That way, you will be well prepared for the change in temperature ahead, and you'll not have to face any cold days with a heater that is not working. However, you can always call us at other times of the year for tune-up services.
A tune-up today could allow us to find a small problem before it turns into a disaster. Furthermore, tune-ups are a good way to help you keep your utility bills low. For these reasons, it's a good idea to add heater tune-ups to your to-do list this fall. Below is a complete list of what our specialists will do during a heater tune-up:
Inspect and tighten all electrical connections and terminals
Clean and adjust gas burners
Clean and adjust pilot assemblies
Inspect heat exchanger for cracks, rusting, or problem areas
Inspect the flue assembly and test limits
Test and inspect safety controls
Test and adjust gas pressures
Replace or clean filters if supplied by the homeowner
Lubricate fan motors if necessary
Measure and adjust blower for correct airflow
Test and calibrate the thermostat
Measure heating system output
Measure and record electrical voltage, amperage, and component resistance
Inspect and test all system transformers, relays, contactors, and controls
Repair minor air leaks in plenum and ductwork
Perform a complete and thorough carbon monoxide check
Advise customer on other ways to reduce energy consumption, improve safety, and enhance comfort
Heating System Cleanings
Your heating system gets dirty after months and years of use. Dirt, dust, debris, hair, and chemicals all find their way into your system and build up over time. Do you want to breathe this dirty air every time you turn on the heater to warm up your home?
Here at Cote's Mechanical, we offer thorough heating system cleanings. We clean all units and even offer vent and duct cleaning too so that you end up with a clean system and clean air. You'll breathe easy knowing that the job was well done, and the system is no longer harboring allergens that make your home and air dirty.
If you'd like more information about our heating maintenance and related services here at Cote's Mechanical, contact us today. We'd love to show you what we can do for you.