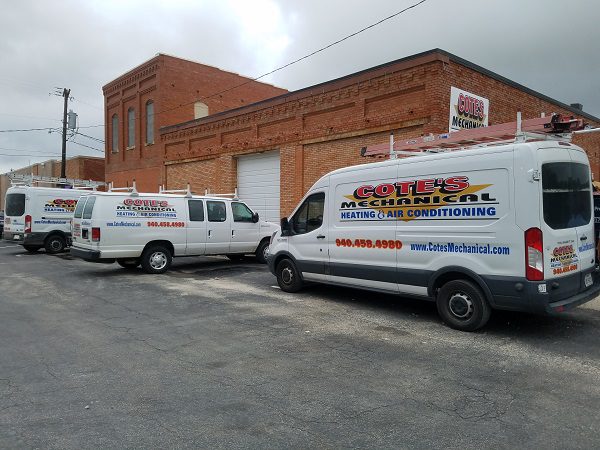 Cote's Mechanical, LLC in Gainesville, TX
Cote's Mechanical
Hours of Operation:
Open 24 Hours
Heating & Air Conditioning in Gainesville, Texas
Since its founding in 2001, Cote's Mechanical has been the leading HVAC company for Gainesville, Texas, serving both residential and commercial clients with unparalleled efficiency and reliability. With a dependable team of hardworking and knowledgeable professionals, we will make sure that your home or office will be able to reach and maintain a comfortable temperature, providing you with your ideal space.
Our team works efficiently to get to the bottom of your HVAC issue so that your family or business can focus on getting back to your day. At Cote's Mechanical, we also make sure to provide friendly and respectful service and open and honest communication. This comes from putting our clients at the heart of every decision.
Services We Offer to the City of Gainesville
Air Conditioning Installation
Cote's Mechanical, LLC offers the highest-quality air conditioners for homeowners across Northern Texas. We have an abundance of options, allowing you to either upgrade your old system or install a new air conditioner into a new home construction. Installing a new air conditioning unit into your home is not an easy task, so you want a team of professionals that you can rely on. At Cote's Mechanical, we are proud of our reputation for exceptional air conditioning installations and replacements.
Heater Maintenance
Heater maintenance is a must to keep the chill out of your home during the winter. Our heater maintenance services ensure that your heater is running properly and that everything is fine-tuned to improve performance and energy efficiency.
HVAC Air Duct Cleaning
Air ducts are notorious for catching and collecting dust, grime, and other air pollutants over time. It is important to have your air ducts cleaned at least once a year to ensure that the air you breathe is clean and to keep dust out of your home. Your HVAC system will also thank you, as it is hard to maintain a steady temperature when the air transported is being obstructed. Contact our team today to schedule an air duct cleaning service!
Resources for Gainesville, Texas
Cote's Mechanical, LLC is proud to serve the hardworking residential and commercial clients of Gainesville, Texas, and surrounding communities such as Valley View and Celina. Contact our team today for more information on our services or to schedule your appointment!