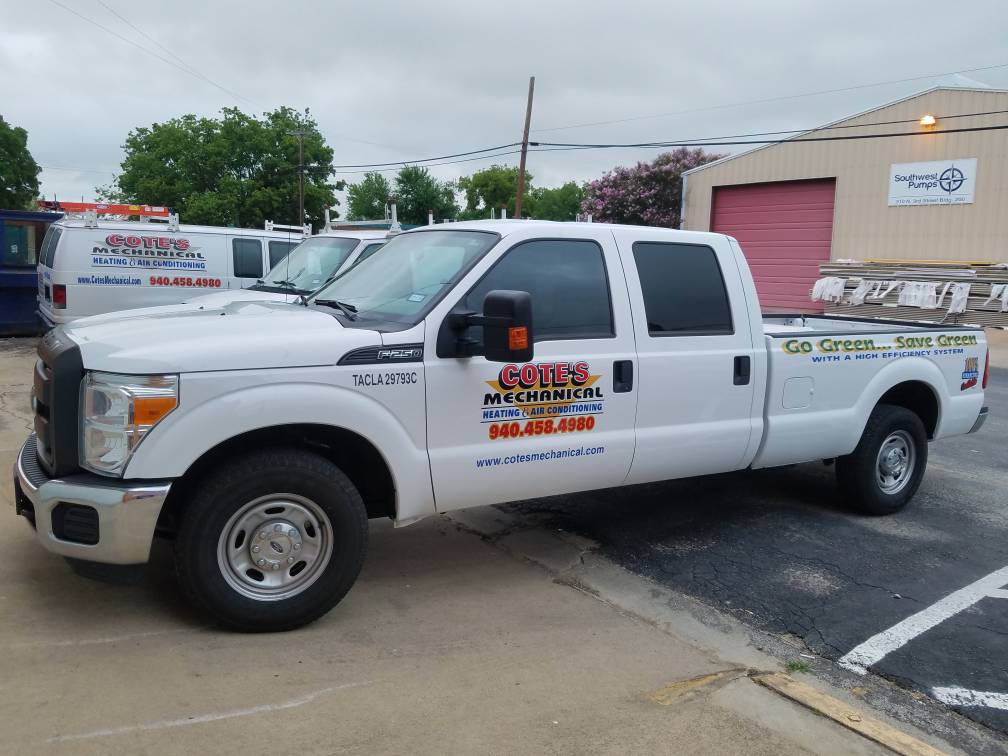 Cote's Mechanical, LLC in Haltom City, Texas
Cote's Mechanical
Hours of Operation:
Open 24 Hours
Reliable Heating & Air Conditioning in Haltom City, Texas
For over 20 years, Cote's Mechanical has been providing reliable HVAC services to the residential and commercial clients of Haltom City, Texas. All of our team members have gone through extensive training, are dependable, and continue ongoing training to ensure that we remain experts in our field. Our team is built around honor and trust, and you can expect nothing but the best from us. We are passionate about helping homeowners and businesses maintain a comfortable temperature in their building so that they can be their most productive selves.
We know that an uncomfortable home or office can lead to lower productivity, health problems, and irritability, so when we get a service call, our team works efficiently and quickly to get to the bottom of the HVAC issue. Cote's Mechanical has become renowned for its friendly and respectful service. With unparalleled customer service, we put our customers first and at the heart of every decision.
Services We Offer to Haltom City
Air Conditioning Installation Services in Haltom City
Cote's Mechanical is proud to offer the latest in high-tech air conditioners. Whether you are looking for a new air conditioning system to replace your old one or are building a new home, we have the tech for you! From traditional central air conditioning units to ductless mini-splits, we can help you find and install the right air conditioner for your home's needs. Contact us for more information.
Haltom City Heat Pump Services
Heat pumps are responsible for bringing in air from the outside and removing excessive heated or cooled air from the home. Overtime, wear and tear on these systems can result in them needing maintenance, repairs, or a replacement. When this time comes, you can trust that the team of HVAC technicians at Cote's Mechanical will be there for you.
Indoor Air Quality Services in Haltom City, Texas
Your indoor air quality is extremely important as it helps maintain the respiratory health of your family. Whether you have an air purifier or the standard filtration system of your HVAC unit, you need a system to help filter out the impurities. When your system's indoor air quality control becomes problematic, it is important that you contact the team at Cote's Mechanical to get your unit back on track. Reach out today for more information!
Local Resources in Haltom City
Cote's Mechanical, LLC is proud to serve the hardworking individuals of Haltom City, Texas and the neighboring communities including North Richland Hills and Fort Worth. Contact Cote's Mechanical today for more information on our services or to schedule your appointment!