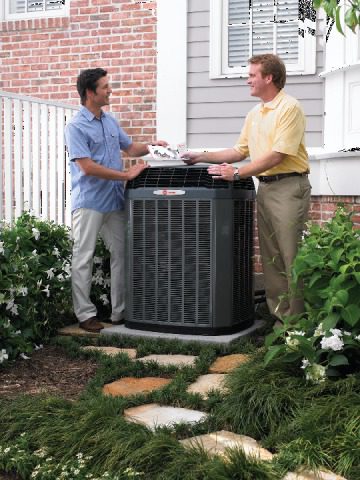 Our Location
Cote's Mechanical Heating & Air Conditioning
315 N 3rd St, Sanger, TX 76266
Hours of Operation
Open 24 hours, 7 days
A/C and Heating Services in Richland Hills
About Cote's Mechanical
Cote's Mechanical, led by husband and wife team: Cote and Kristi Wyatt, is a company of experienced HVAC professionals committed to servicing all of your A/C and Heating needs. The Wyatts founded the company in 2001 and, soon, it grew into one of the most trusted and well-established HVAC companies in the mid-cities area, with over 40 employees dedicated to delivering the best service.
Our dependability is unmatched by even bigger nationwide chains, as we've built our reputation = providing top-quality service one customer at a time.
Being locally owned and operated means that you don't have to worry about dealing with endless go-betweens if you have any issues because Cote and Kristi will take care of you like family. When you call us, you'll know that you're always getting someone who knows your area and can respond to your needs promptly.
Owners
Cote Wyatt and Kristi Wyatt.
Customer Reviews
5★on Google, May 28, 2022
Brian Kraman
Super quick to set an appt and came over on a Saturday. 2 minutes to diagnose and 3 minutes to fix! Incredible. Craig even answered multiple questions for pricing on a replacement. AAA+++!!
4★on Google, May 17, 2022
Jeremy Scott
Cotes was very efficient and transparent. I wasn't sure what to replace my heat pump with and lacked the knowledge of the options. They have videos that help with that and are very patient with explaining things. I also mentioned that I'd be doing more research and getting other quotes just like people should. They took no offense to that and were very respectful when hearing it. They worked with me on the pricing and terms, plus they are 24/7 with no night or weekend markups. Find another company that offers that. The installers were nice, friendly, and efficient. Great guys and service.
Business Response:
Jeremy- Thank you so much for the 5-star review!! We can't thank you enough! –Cote's Mechanical
5★on Google, May 27, 2022
Matt Morris
Fantastic experience! Cote's sent John in response to our AHS request. He was timely, professional, courteous, and knowledgeable. He was able to diagnose and repair our HVAC issue with relative ease and assurance. I highly recommend Cote's for your HVAC needs.
Business Response:
Matt- Thank you for choosing Cote's Mechanical, LLC for your HVAC needs. We love hearing the great experience you had working with us and can't thank you enough for the recommendation. –Cote's Mechanical
Services We Offer to the City of Richland Hills
Air Conditioning
Don't let this North Texas sun make your life miserable this summer! We offer quick, reliable, and affordable A/C repair for homes in Richland Hills. We also provide A/C system replacement and installation services, A/C Maintenance, and tune-ups. A/C problems can take many forms, so our technicians will thoroughly check your system to come up with the right diagnosis and identify any other areas of concern — saving you time and money!
Heating
We've all learned over the years that winters in Richland Hills are no joke. That's why we offer fast, reliable, and very affordable service for heater repair, replacement, and installation. We also work on heat pumps, heating ducts, and other heating-related services.
Air Ducts
Air Ducts are vital in heating and cooling your home at Richland Hills. We also offer air duct replacement, installation, HVAC ductwork repairs, air duct cleaning, and indoor air quality advice and solutions.
Commercial
If you're a Richland Hills business owner looking for a fast, reliable HVAC service at a great value, Cote's Mechanical Heating & Air Conditioning has you covered! We offer heating and cooling maintenance, installation, and repairs for commercial heating and cooling systems. Plus, we offer ductwork installation and cleaning. Being a small business, we understand your needs and work tirelessly to ensure your employees and customers feel nice and comfortable no matter the season.
Emergency Local Resources in Richland Hills
Do you have a different type of emergency, but it's after most business hours? Don't sweat it! Here is a list of a few local Emergency 24/7 resources near the Richland Hills Area.
24/7 Electricians
24/7 Plumbing
24/7 Roofing
24/7 Window Repair and Installation
24/7 Mobile Auto Repair
We're Always Here for You
At Cote's Mechanical Heating & Air Condition, your needs are our number one priority. We know that you will help us continue to grow by taking care of your needs. It would be our pleasure to serve you, so give us a call today at (940) 458-4980 to schedule an appointment for a free estimate. We are also proud to serve other communities like Haltom City, Hurst, North Richland Hills, Watauga, and Keller.