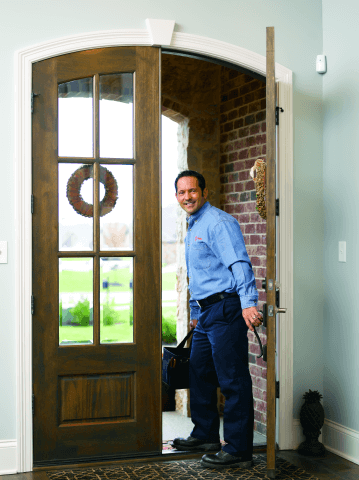 Contact Cote's Mechanical in Sunset, Texas
Cote's Mechanical
Open 24/7
Best A/C and Heating Services in Sunset
Cote's Mechanical has been providing unparalleled heating and cooling services to residential and commercial clients in Sunset, Texas since 2001. Owned and built by Cote and Kristi Wyatt, Cote's Mechanical is one of the leading HVAC companies in DFW. We proudly support the community by offering first-rate heating and cooling installations, repairs, and maintenance services. Our skilled team of HVAC professionals can help you find the perfect solution for your home or business's cooling needs.
Our glowing reviews back our promises by commending our dependable technicians. Our customers have posted about being impressed with our high-quality HVAC installations and quick repairs. Our affordable rates, excellent customer service, and high-quality products have also been mentioned by our customers.
Services Offered to the City of Sunset
Air Conditioning Installation Services in Sunset, Texas
When Sunset residents and commercial property owners need new air conditioner units or replace an older one, you can trust our team to help whether it's for home or office. Cote's Mechanical starts every service with a consultation to get a better understanding of your home or business's cooling needs. We then work with you to find the perfect solution for you according to your budget. We then install the system and check to make sure everything is running smoothly.
Air Conditioning Repair Services in Sunset, Texas
Your home or business can quickly overheat when your a/c unit breaks down. Texas is known for its intense summer heat, and when you have a broken a/c unit, it can turn your home or business into an uncomfortable place to be. Our team at Cote's Mechanical works hard to ensure that your a/c unit is fixed as soon as possible. We offer emergency repair services for both residential and commercial customers 24/7, to ensure they are always running smoothly and safely for the protection and health of your family or staff.
Heating Maintenance Services in Sunset, Texas
With a minimal annual maintenance investment for your heater, you don't ever have to worry about battling with a broken heater in the middle of winter ever again. Heating maintenance ensures that your heater gets the tune-up and minor repairs it needs to keep it running strong throughout the winter. When you place your trust in Cote's Mechanical for your heating maintenance needs, you can rest assured that your heat pump or furnace will work strongly for years to come. Cote's Mechanical provides routine heating maintenance for both commercial and residential clients of Sunset, Texas.
History of Sunset, Texas
Sunset, Texas's humble beginnings started in 1870 as settlers came into the area from Denton, Texas. One of the founders, Sam Smith, opened a grocery store in the 1870's bringing more individuals into the growing settlement. In 1880, Sam Smith applied for a post office to be open in the settlement under the name Smithville. However, the postal authorities denied the name as there was already a town called Smithville, Texas. Instead, they suggested the name Sunset, Texas and it has stuck ever since.
The town continued to grow as a railroad from Fortworth was built through the city, providing much needed trade and work for the settlers. In 1884, the town voted to incorporate, as the town grew significantly with over 600 residents, a canning factory, a weekly newspaper by the name of Sunset Signal, two churches, a school, a gristmill, cotton gins, and banks.
Farming was the main source of trade into the twentieth century but as the Great Depression struck along with World War 2, the town began to decline in size as businesses struggled to thrive under the new advancements in farming. The town became unincorporated and is now a part of Montague, Texas.
If your home or business in Sunset, Texas needs heating or cooling services, please contact Cote's Mechanical. We also provide residential and commercial HVAC services in the surrounding areas, including Decatur. Call our team today to know more about our services or schedule an appointment with us.
Local Reviews
for sunset, TX
Cote's Mechanical, LLC
Rated
5.0
out of 5 stars based on
1
customer reviews
---
Cote's Mechanical did an awesome job! We really appreciate the good old fashioned service.
Michele

-

Sunset

,

TX

76270



Review of
Cote's Mechanical, LLC
The tech who initially diagnosed our AC did a great job, and Juan and his helper did an awesome job installing our new coils
---
Juan V.
Replaced Trane coil.
Near

Private Rd 2897,

Sunset

,

TX

76270