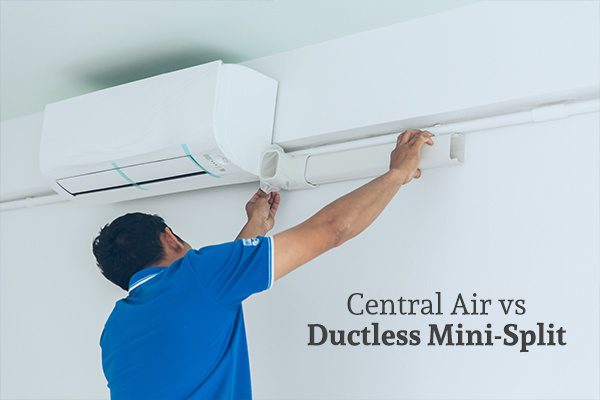 When it comes to keeping your home comfortable during the summer months, there are two popular options: central air conditioning units and ductless mini-split units. These cooling systems operate in very different ways—and each comes with its own inherent advantages. By having a better understanding of how these systems work and what their unique selling points are, you can more confidently decide which cooling system may be right for your home. This is true whether you're in the process of building a home or are even looking to add some square footage to your existing residence.
Central Air Units
Central air conditioning systems are very common in modern homes. These systems operate using an outdoor unit (known as a condenser), which pumps cool air through a series of ductwork throughout the house. These units are great for keeping larger homes comfortable, even during the hottest months of the year. This is because central air units can transport conditioned air to every room within the house (as long as the room has ductwork and a vent).
Compared to a ductless mini-split system, central air conditioning units are typically cheaper up-front to install. However, this is only the case if the home already has ductwork in place. Otherwise, the cost of retrofitting a home to accommodate ductwork and ventilation can be very costly and cumbersome.
Central air conditioning systems are also very energy efficient, with some units getting up to 20 SEER. This efficiency can help to keep energy bills down during the summer months, which can help to offset the initial costs of the unit as well.
If you're interested in integrating air quality control products, a central air conditioning system also makes this quite easy. Humidifiers, dehumidifiers, and air purification systems can all be seamlessly connected to a central air conditioning unit. These added air quality control systems can also reduce the amount of wear and tear on your central AC unit, which can increase its efficiency and overall life expectancy.
Ductless Mini-Split Units
Compared to central air conditioning systems, ductless mini-split systems do not require any existing ductwork in order to deliver cool air throughout the home. Instead, these systems work using a condenser unit that is attached to individual cartridges or air handlers in each climate-controlled room of the home. From there, sophisticated technology is used to deliver cool air to each individual space as needed.
Mini-split systems are very popular in older homes where it may not be cost-effective or feasible to install ductwork for a traditional air conditioning system. This can help to cut down on installation costs and save homeowners from having to make major structural changes to the space itself.
Mini-split units also provide homeowners with a high degree of customized temperature control with excellent energy efficiency. Because they use inverter technology to convert high-voltage electricity into DC voltage, mini-split systems are able to run with very little energy. In fact, some systems can reach more than 30 SEER.
And compared to a central unit, which can run at just one or two speeds, a mini-split system uses variable-speed compressors to maximize efficiency and keep each room comfortable. Many homeowners also enjoy the fact that mini-split systems allow for individual temperature control in each room that has its own air handler. In fact, these systems can actually run heat and cooling simultaneously, so you can heat one room in your home while delivering cool air to the rest of the house. This is something that simply cannot be done with a traditional air conditioning unit.
From a maintenance perspective, ductless mini-split systems are also very easy to care for. This is especially true because there is no ductwork to inspect or other major mechanical components to worry about. Like a central AC system, ductless systems should still be inspected and tuned up by an experienced HVAC professional at least once a year. However, maintenance on these systems is usually more simplistic.
Adding Additional Rooms to a Home That Already Has a Central Unit?
For homeowners looking to renovate or add to an existing home, ductless mini-split systems can also be a great choice because they can be used alongside a central air conditioning system to provide cool air (or heat) to new rooms without the need for ductwork. This also makes them a popular solution for garage spaces, attics, and sheds.
Need Help Finding the Perfect HVAC Unit For Your Needs?
Whether you're looking to install an HVAC system in a new home or are seeking the ideal solution for a new addition to your existing home, Cote's Mechanical Heating & Air Conditioning is here to help. We offer installation and maintenance on both central air conditioning systems and ductless mini-split systems—and we'd be happy to help you choose the right solution for your space! Contact us to find out more about our services or to schedule your consultation.