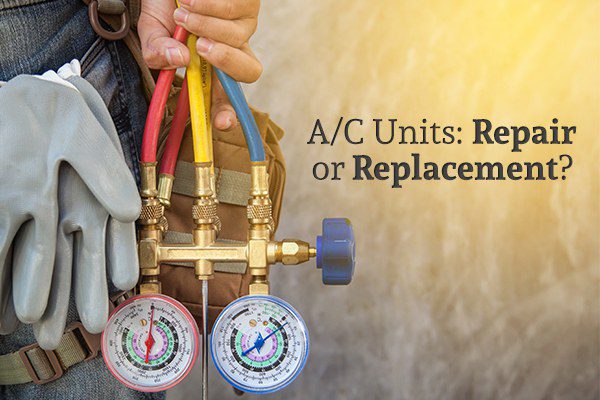 When something you use every day breaks down, it can be difficult to figure out whether it should be repaired or replaced. With something as small and inexpensive as your go-to pair of shoes, it might be an easy decision to replace them. With something as expensive and important as your AC unit, it can make for a much harder decision. Here's what you should consider when deciding whether your AC unit should be repaired or replaced.
When Does My AC Unit Just Need Repairs?
There are a few key indicators that your AC unit is due for a repair, not a replacement. Factors that may indicate a repair is the better choice for your unit include:
The A/C Unit Is Relatively New
If your air conditioner is only a few years old and it is running into issues, you probably don't need to get it replaced. Typically, a repair or a tune-up will help get your system back up and running since it likely doesn't have widespread wear and tear.
You Invest in Routine Maintenance on Your Unit
Regular maintenance keeps your system in good condition and helps extend its lifespan. Routine maintenance helps catch minor issues with your system, allowing for quick resolution and increasing the efficiency of your unit. If your unit is experiencing some issues but you invest in routine maintenance, it could just be a sign that a tune-up is needed to prevent major issues from developing. An experienced HVAC technician can determine what is causing your unit to work improperly and apply the right solution to keep it functioning to the best of its ability.
The Cost of Repair Isn't Too High
As a good rule of thumb, if the cost of repair is less than half the value of your AC unit, then repair is often the better option. However, if your AC unit keeps running into major issues, then it might need to be replaced soon. Constant repairs will quickly add up, making replacement the more financially advisable option at that point.
Your Unit Is Really Noisy
Typically, a noisy AC is an easy fix. This issue should not require a full replacement—just the knowledge and expertise of a trusted HVAC technician.
What Causes an AC Unit to Be Noisy?
Banging Noises: Banging is usually a sign that there is a loose or broken part, such as the connecting rod, piston pin, and crankshaft. Another common problem that causes noise is an unbalanced blower.
Clanking Noises: Clanking noises are another sign of a loose or unbalanced part. This could be a sign that the parts inside the sealed unit have failed, the compressor has become loose and needs to be replaced, or that the indoor blower or outdoor fan blades are unbalanced and hitting other parts.
Clicking Noise: Clicking noises are often caused by a defective control or failing thermostat. It is important to note that the clicking of electrical components is normal during the start-up and shutdown sequence of the AC unit, but it shouldn't continue as the AC is running.
Buzzing Noises: These can come from your outside unit because of:

Loose parts
Debris in either the indoor or outdoor unit
Outdoor fan motor is loose or about to fail
Fan blades are loose or out of balance
The copper lines from outside to inside are rubbing against something
The condenser coil needs to be cleaned
The air filter needs to be changed
The blower is going bad or out of balance
Refrigerant leaks are present, resulting in your air conditioning freezing up
When You Need to Replace Your AC
Just as there are some good indicators that a repair is the best route for your malfunctioning AC unit, there are also indicators that a replacement is actually the best option. Here are some factors that may signal that a full replacement is the better option:
The Unit Continuously Breaks Down
If your air conditioning unit continuously runs into issues, then it is time to get it replaced. The constant cost of repairs will add up quickly and before you know it, you'll be paying more for repairs than you would have for an entirely new unit. An experienced and trustworthy AC technician can help you decide when it is time to replace your old unit to ensure that doesn't happen.
The Unit Is Over 10 Years Old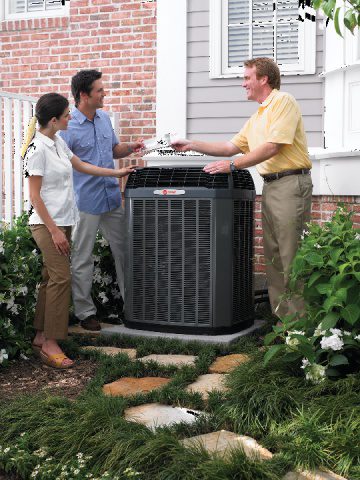 If your unit is over 10 years old, it is reaching the end of its lifespan. Typically, an air conditioner will last about 10-15 years. Routine maintenance can help lengthen the lifespan of your unit, but when you run into constant issues after the 10-year mark, it is time to consider getting a new unit as routine maintenance can only prevent so much wear and tear.
Your Air Conditioning Unit Isn't Energy-Efficient
Advances in HVAC technology have improved the energy efficiency of air conditioning units. While upgrading to a new air conditioning unit is costly, the amount of savings you can accrue from month-to-month energy savings will pay back the investment. Also, newer more energy-efficient units can also help you qualify for tax breaks or incentives that can further increase your return on investment.
The Air Conditioning Unit Could Spring a Leak
If you find yourself constantly running out of refrigerant, then your air conditioning unit is experiencing a coolant leak. Coolant leaks can be a bit pricey to fix; so can refilling your refrigerant. If your unit uses R-22 refrigerant, then it is definitely time to make the switch since R-22 has been phased out due to its negative impact on the environment. Because it has been phased out, if your unit is still using it, you will be paying a very high price for it while also harming the environment.
The Compressor Breaks Down
The compressor is one of the most vital parts of your air conditioning unit. Depending on the issue the compressor is facing, the cost to repair it may end up being as much as the entire unit. In this case, it is better to just replace the entire unit instead of just the compressor. You'll pay the same amount of money, but get a much better bang for your buck since you'll be getting a new unit with no wear and tear, extending the overall lifespan.
Whether You Need a Replacement or Repairs
It can be difficult to figure out whether your AC unit simply needs a repair or needs to go entirely. Making such a costly and impactful decision on your own can be stressful. Let yourself keep a cool head and peace of mind by contacting the experienced and knowledgeable team at Cote's Mechanical. We see HVAC units day in and day out and we make sure our team is up-to-date on the latest developments in HVAC technology, so you can be sure that when you consult our team, you'll be getting the skilled and cutting-edge opinion. Don't risk spending another day without the cool comfort of your AC unit and other HVAC systems; contact our team today to schedule an appointment or consultation.