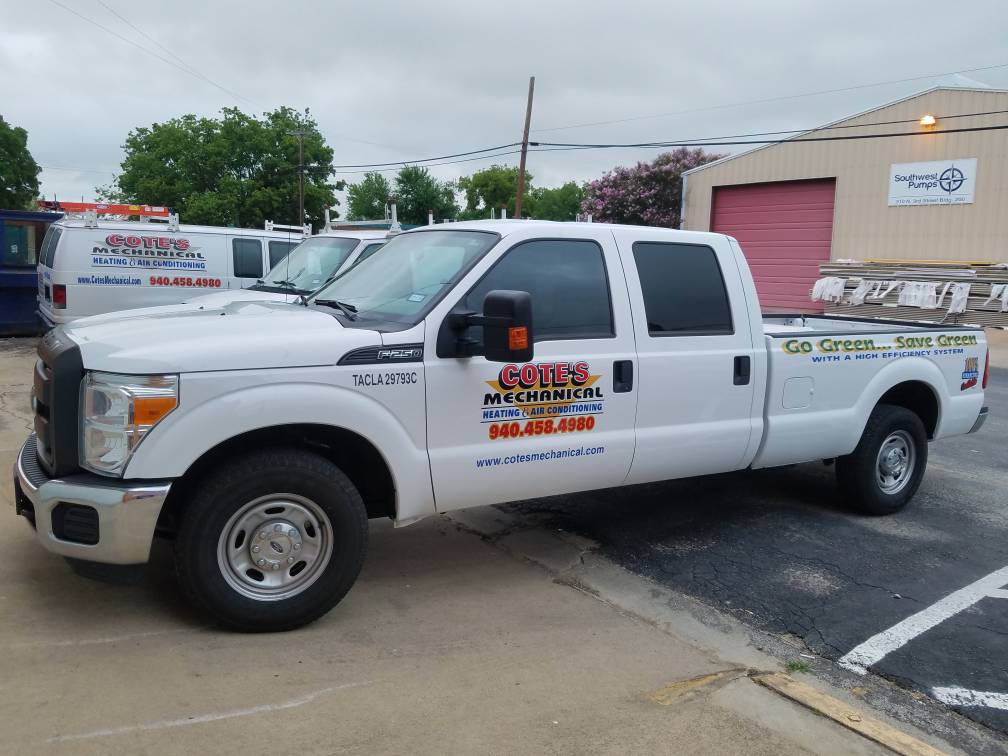 HVAC Services in Rhome, Texas
Cote's Mechanical
Hours of Operation:
Open 24 Hours
Air Conditioning and Heating Services in Rhome, Texas
Cote's Mechanical has been providing unparalleled heating and cooling services for the residential and commercial properties of Rhome, Texas since 2001. Our team has made a strong name for ourselves, thanks to our quick and thorough repairs, high-quality installation services, and unparalleled customer service. Cote and Kristi Wyatt, proud Owners of Cote's Mechanical, firmly believe in continued education and team-building, ensuring that our professionals are highly trained and qualified. Cote's Mechanical will help your family or business with all of your HVAC needs.
Services We Offer to the City of Rhome
Unbeatable Air Conditioning Maintenance Services in Rhome, Texas
Routine maintenance is the best way to ensure that your air conditioning unit is able to last you and your family through the harsh Texas Summers. Cote's Mechanical offers thorough maintenance services, which includes a full inspection of your unit, a thorough cleaning, and refrigerant recharge. Individuals who get their air conditioning serviced at least once a year will find that their unit is able to comfortably make it to the end of its natural life-span of 15-20 years and even surpass it.
Heater Repairs in Rhome, Texas
While Texas isn't necessarily known for its unbearably cold winters, it does have its few weeks of frigid colds when having a heater is a must. When your heater isn't operating properly, your home could be left with dipping temperatures and unhappy family members. Cote's Mechanical offers swift heater repairs to ensure that your family is never left out in the cold. Contact our team today for more information on our heater repair services!
Commercial Heating & Cooling Services for Rhome, Texas
Your commercial heater and air conditioner ensures that your business is comfortable for staff, customers, and vendors. When your system is malfunctioning it can leave your customers uncomfortable, leading them to seek your services or products elsewhere. Your employees productivity will greatly decrease. Protect your business by investing in routine maintenance, repair services, and new commercial HVAC installations from a renowned trusted team such as Cote's Mechanical.
Local Resources in Rhome, Texas
If your home or business in Rhome, Texas needs heating or cooling services, please contact Cote's Mechanical, today. We also provide services to the surrounding areas, including Aurora, Newark, and Boyd.