There are so many smart devices available today. From smartphones to smart televisions, these devices have changed how we live. Your thermostat is another device that you can upgrade with smart functionality. In this article, Cote's Mechanical will explain smart thermostats and how they can enhance your home and possibly even save you money.
Smart Thermostat
Like a smartphone, a smart thermostat adds functionality to a traditional device. While smart thermostats tend to have higher upfront costs than conventional thermostats, they can pay for themselves over time in energy cost savings.
What Is a Smart Thermostat?
A smart thermostat is a Wi-Fi-equipped device that automatically adjusts your home's temperature based on your habits and preferences. These devices also have features not found in conventional thermostats, including energy usage insights and software designed to maximize energy efficiency.
How Does It Work?
With a smart thermostat, you can set a schedule to keep your home at particular temperatures at certain times. Smart thermostats sense your home's temperature and signal your HVAC system to make it cooler or warmer to maintain your desired temperature. Several smart thermostats are on the market today and have similar features.
What Are the Benefits of a Smart Thermostat?
Equipping your home with a smart thermostat offers several benefits. Some of these benefits include:
Energy Savings
Some smart thermostats feature a geofencing option that turns your HVAC system on only when you are at home or in a particular room. It's a great way to stay comfortable in the intense heat of a Texas summer while simultaneously protecting your wallet and the environment.
A smart thermostat can pay for itself over time. Energy Star, a program run by the Environmental Protection Agency, states that using a smart thermostat can result in savings of $50 a year on average.
Remote Access
Just like you can remotely control parts of your home using Alexa, a smart thermostat allows you to access your HVAC system remotely. A smart thermostat lets you control your HVAC system from a smartphone, tablet, or laptop, even if you aren't home! Think of how convenient it would be to come home from work or school to a home already set at your desired temperature.
Access to Energy Rebates
You may be eligible for rebates when you purchase a smart thermostat. Rebates help make upgrading to a smart thermostat more affordable. Energy Star has a list of rebates offered for smart thermostats.
Environmental Benefits
Smart thermostats can help you be more eco-friendly. By saving energy with a smart thermostat, you'll produce fewer carbon emissions, which can benefit the environment.
Easier on Your HVAC System
Another benefit of a smart thermostat is its potential to reduce wear on your HVAC system. A smart thermostat automatically adjusts for fluctuations, meaning your air conditioner and heater won't have to work as hard to maintain a stable temperature.
Access HVAC System Information
Certain smart thermostats can alert users to maintenance needs, like when a filter needs to be changed. Keeping up with HVAC maintenance may save you money over time and help prevent costly repairs.
Smart Technology Tracks Energy Usage
A smart thermostat can provide detailed information on electricity usage and insight into how you can save energy and money. You'll be able to see periods when you used more or less power.
Integration With Other Smart Home Devices
Some smart thermostats can integrate with other smart home devices, such as Google Assistant and Alexa, for added convenience.
HVAC Services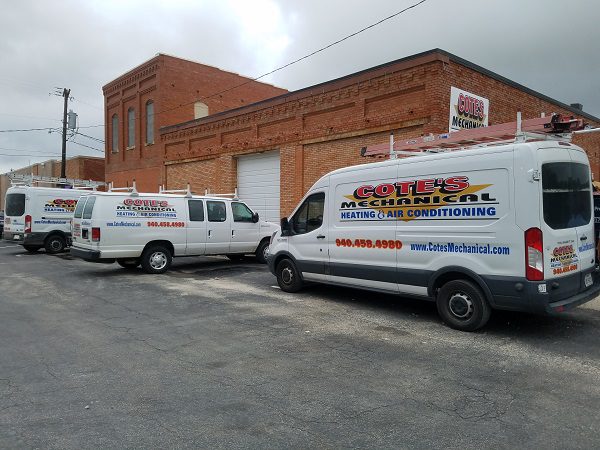 If you want to install a smart thermostat or need HVAC services in Denton, Texas, or the surrounding area, Cote's Mechanical can help. We've won multiple awards and proudly maintain an A+ rating with the Better Business Bureau. We also offer 24/7 emergency inspections and repairs. Our company serves both residential and commercial clients. Whether you need installation, maintenance, or repairs, our skilled technicians will get the job done efficiently.