Whether you're looking to have new commercial HVAC equipment installed at your place of business or are simply looking for a company you can rely on for your ongoing maintenance, finding the right commercial HVAC company is a must.
Not sure where to begin on your search? Here are a few key factors to watch out for:
1. Support for Major HVAC Product Lines
An ideal commercial HVAC contractor will carry and/or install and service a wide range of products from some of the most reputable and trusted brands in the industry. Some well-known HVAC manufacturers that you may want your contractor to offer and service include:
Ideally, you want your commercial HVAC contractor to maintain solid relationships with these manufacturers and suppliers. If a company tries to sell you products or equipment from a lesser-known company, you probably shouldn't trust them. The right contractor will be able to help you find the hands-down best equipment for your commercial property's unique needs.
2. Knowledgeable and Friendly Sales Team
When it comes time to upgrade or replace commercial HVAC equipment, having an experienced and competent sales team you can trust makes all the difference. Your HVAC company's sales team should consist of technical specialists (ideally with engineering backgrounds) who know what your business needs to maximize comfort. These professionals should be easily accessible and happy to answer any questions you may have before you commit to a purchase.
3. Highly Trained and Certified HVAC Technicians
HVAC companies that are worth your time and investment will have well-trained HVAC technicians on their staff as well. These companies invest in their own teams by offering ongoing training to keep everybody up-to-speed on the latest technology trends, advancements, and equipment. The right team will also be aware of the best installation, service, and repair methods for your commercial equipment.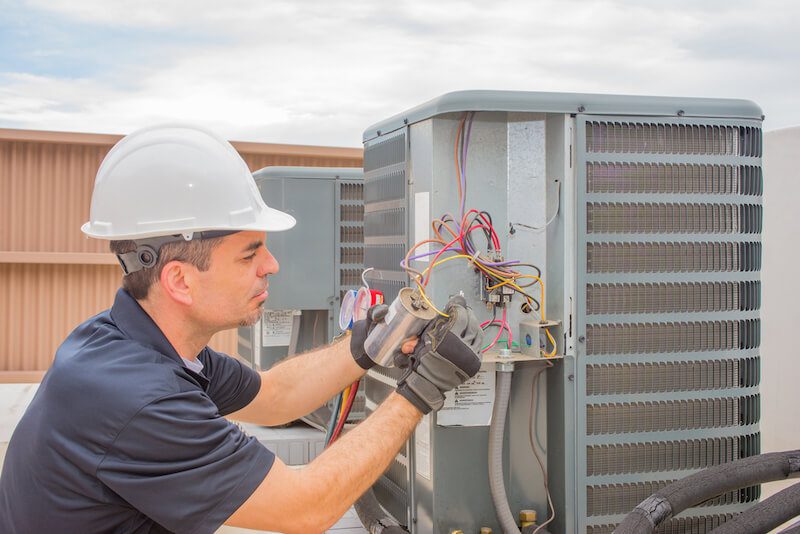 When shopping around for a commercial HVAC company, never be afraid to ask for certifications or licenses; you should also take the time to speak with a member of the management team and find out exactly what kind of ongoing training the company's technicians receive.
4. Up-to-Date on the Latest HVAC Trends
The HVAC industry is a very technical field; by its very nature, it is constantly changing and evolving. A great commercial HVAC company will be proactive about staying up-to-date on the latest trends and innovations.
In general, you can find out how well an HVAC company stays on top of these things by asking questions such as:
"Do you track service costs per individual piece of equipment?"
"Can you tell me whether it is better to repair or replace by unit using historical service data?"
The company's answers to these kinds of questions will tell you a lot about whether or not they're staying on top of technological advancements and industry changes.
5. Contractor Compliance With Licensing and Insurance
In order to operate as an HVAC contractor (especially on commercial buildings), it is important that the company has the correct licensing. Make sure the company you choose provides all their credentials, including licensure and/or proof of insurance. If a company refuses to show you these credentials or seems hesitant to do so, it's time to move on. Any reputable and experienced commercial HVAC company should be willing to show you and should carry insurance information with them to any job.
6. Affiliations and Awards
An excellent commercial HVAC company will likely be affiliated with other companies in their industry—or they may have awards or accreditations through the Better Business Bureau (BBB) and similar organizations. These things can help to create a more detailed picture of success for the company and give you some additional peace of mind if you choose to work with them.
Regardless of awards and affiliations, it's still always a good idea to check out a commercial HVAC company's reviews before you make a selection. Reviews from other real clients can give you a much better idea of what to expect in your interactions with the company. Just be sure to look at legitimate, third-party reviews on impartial sites like Google, Yelp, and the like. Keep in mind that reviews posted directly on a company's website are almost always going to be positive.
Cote's Mechanical – a Commercial HVAC Company You Can Trust
As you can see, there are a lot of things to look for when you're selecting a commercial HVAC company to trust with your business's heating and cooling needs. If you're still looking for an HVAC company in the area of North Texas. We offer a wide range of commercial services, and all of our work is 100% guaranteed for your peace of mind.
Find out more about our commercial HVAC offerings or schedule your first service appointment today. From HVAC emergencies to repairs and inspections, we do it all!